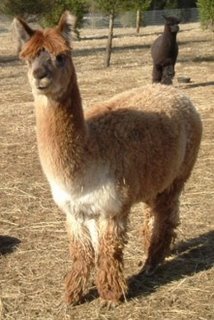 i just got a call from my mom, who is attending some alpaca festival or something in maryland. she got some yarn for me (yay thanks, mommy!), and to my delight they are handspun from some local alpaca breeders. the hanks are from
millstone manor
(i believe it's the white baby alpaca 2-ply sport weight), and from
prairie lake alpacas
. they're natural and probably too beautiful to dye with my rudimentary kool-aid skills, but we shall see.
i do know of this
woolapalooza
going on at
drumlin farm
in april. anyone planning on going?
p.s. more culinary episodic tales to come. i got a new toy for the kitchen! hint: it's unnecessarily digital.